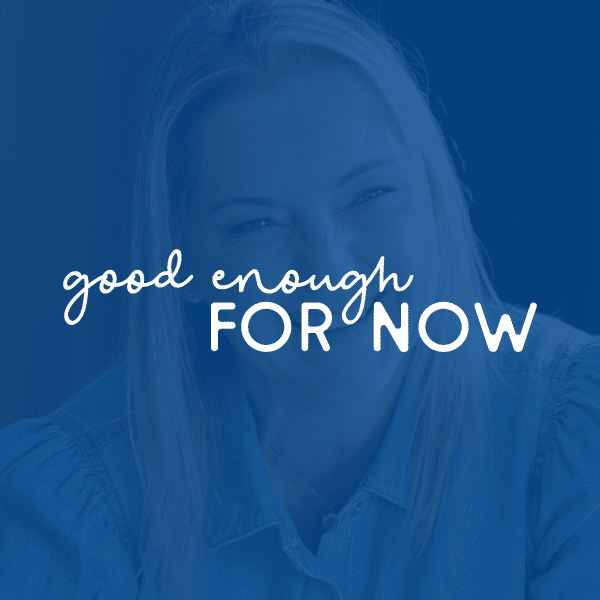 Logo suite, podcast cover art, Squarespace website and social templates for a podcast.
Client: Good Enough For Now
Industry: Media
Date: 2022
When Harper Spero and Steph Kruse came to me to help brand their new partnership/venture/podcast, right away it was clear there was a list of things we didn't want it to be.
Not too perfect or polished-looking, but not too messy either. Not girly or flowery or soft. Not too serious. Confident but not abrasive.
And in going through the brand exploration, we landed on some key ideas that we DID want to capture.
The idea of being in-between / transitions / change / movement. Being non-linear. Friendliness. No-bullshit humor. Simplicity. Flexibility.
A tall order, but a challenge I relished tackling. I love being given a bunch of really abstract ideas like these, and not only making sense of the whole, but bringing it to life visually.
The final branding has a type-driven logo that juxtaposes both typefaces and positioning, and a bold, fresh color palette that still feels warm and inviting. It's eye-catching but not off-putting (getting that shade of green right was key).
The visual style beyond that uses a lot of color divides and overlapping elements to reinforce that idea of transition and layers and being non-linear. You'll see this on the podcast cover art and the website, and even the social media templates.
Overall, this was a really fun brand to work on, and I honestly don't know who is more pleased with how it turned out- me or Harper and Steph! A good problem to have, when all parties love the end result.
Be sure to check out their profile and have a listen to their podcast!
You can find GEFN here:
Instagram
Website
Apple Podcasts
"I have worked with many freelance and small creative teams and Amanda was one of the few who very aptly asked the right questions to bring out the best in our brand brief, then nailed the brief on her deliverable. She had good instincts about what narrative we wanted to tell with our brand identity. We are a team of two and Amanda handled our feedback seamlessly!"