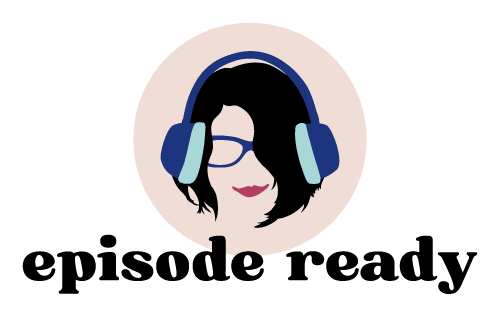 Logo suite, custom icon set and pattern, and social templates for a podcast editor.
Client: Episode Ready
Industry: Media
Date: 2022
Cassidy was pivoting her business from being a copywriter (see her previous branding) to being a podcast editor, and needed a new brand to match the new business direction.
While some of the core elements of her business were remaining the same (her values, her personality), the offerings and even a bit of the tone and focus were shifting.
Cassidy's mission as a podcast editor is to help people-loving podcasters share their stories, grow their following, and inspire others with their show. She's got an awesome mix of technical know-how, writing skills and heart to really be that supportive partner for podcast hosts.
Her new logo was based on the idea of a silhouette of Cassidy – headphones, hair, glasses, smile. It helps capture a personal, friendly, and vibrant feel. It's paired with a chunky lowercase serif for some fun and spunk.
The color scheme is a bit brighter than her previous business. We kept a royal blue and a berry, but added a brighter light blue and deep black for contrast, and a pale yellow, blush, and light grey for versatility.
Overall this look is clean, full of personality, and speaks to the human-focused nature of her brand and who she want to work with.
Once we had the new logo suite in place, I helped her with a set of custom icons, a custom pattern and some social templates in Canva utilizing her new look.
You can find Cassidy here:
Instagram 
"I'm OBSESSED with how my visual brand turned out! It feels like such a perfect representation of what my business is all about and I couldn't be happier.
I loved your design work the first time we worked together, and I think the new brand is going to be a huge attention grabber and immediately communicate with my audience what I do and what my vibe is!"